HDMI Output 4.3 Inch Digital Satellite Finder
Classification: 4.3 inch Published: 2016-02-12 21:05:21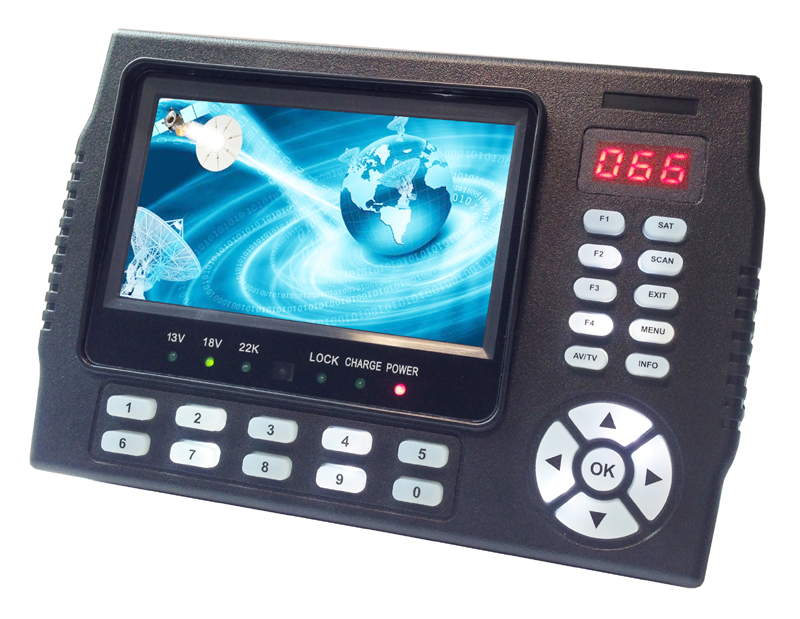 HDMI Output 4.3 Inch Digital Satellite Finder
Advanced Feature:
1.Support DVB-S/S2 MPEG-4 standards and free channel analysis, it also can be easily find DVB-S and DVB-S2 signal source play, and support USB. Multi-functional design with search satellite, satellite TV display, satellite TV convert HD input, USB pictures, Music, Movie player, Record, camera monitoring functions etc.
2. Support DVB-S standard. Fully display DVB-S, DVB-S2, MPEG-2, MPEG-4(H.2.64/AVC) digital satellite signals; High quality video, audio display with HDMI output.
Functions :
A. 4.3inch portable multifunctional monitor& satellite finder is a product for the installation of satellite TV test tools. Set the satellite TV signal and image shows test, radio, television, monitoring function. With auto scan/blind scan/TP scan .Using TFT LCD display image, LED backlighting with low power consumption. And build-in large capacity with high-performance lithium battery for the integration of high-tech electronic products.
B. Low power consumption LED / high-resolution digital display TFT LCD. It has built-in 2600mAh Li-lon battery. If don't need an external power then it can keep on working around 3-4 hours, with DC12V output (use of camera);
C. AV output and input function ,DC 12V Output which can connect to CCTV Camera and supply power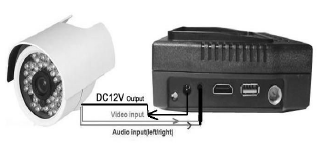 D. Satellite images and signal quality can be displayed through the LCD;
E. Unique star search guidance function, you can search the start in your side easily .
F. Build-in LNB management circuits for TV tuner, receive satellite signal alarm (search satellite signal quality changeable warn and alarm.

G. Support DVB-S/S2&MPEG-4 image & signal for free program and warming).
H. 13V18V/22K signal lock indicator which located at the panel can show in the same time.
I. This finder used the portable structure, with small in size and light in weight.
J. Equipped with installation tool backpack, it is more convenient to carry, so it is the professional equipment for satellite TV receiver system engineering and control engineer technicians.
K. Users can add and revise the parameter in the satellite finder directly.
L. Support DISEqC1.0,DISEqC1.1 multi-satellite input(the most can support 16 sate input), With DISEqC1.2, USALS satellite search window;
M. Support auto antenna control; multi-site scan, indicate multi-TP scan/blind scan etc.
N. Lock satellite signal sound alarm function; Operate and lock light indicate. (Operating the menu and locking the satellite signal, there will show the LED indicator).There will also display the LED digital tube with finder screen showing the signal quality in the same time.
O. 13V, 18V voltage output LED indicator; 22K on and off indicator; 22K switch auto cutover;
P. With LNB auto protection when short circuit; Decode the digital video; PCM and RAW (HDMI on). Build-in subheading DVB title, and attached graphic TV receiver functions etc.
Q. USB port can use in software's upgrade and media play (such film, image, music and record etc).
R. 3.5 standard audio and video input and output port which is convenient to export to other TV broadcast equipment with enter audio and video signal, HDMI output. When receive the satellite, it also can export the TV signal and HD signal synchronously.
Specificaitions :
Model Number

958H

Screen Size

4.3 Inch

Input Impedance

75 Ω (F type)



LNB Power

13/18V,max400mA (DVB-S/S2)



LNG Switch

22KHz(Turn on/off/auto)

Demodulation chip

QPSK/8PSK/16PSK



Symbol Rate

2-45Mbauds MCPC, SCPC Compatible

Minimum Electric Level

About 35dBuV (noise)



Maximum Electric Level

About 90dBuV

Voice Patterns

Dual channel

Sampling Rate

32,44.1 and 48KHz



Satellite signal video decoding

DVB-S/S2,MPEG-2/4 display HD pictures

DVB-S/S2,MPEG-2/4,signal alarm & signal test

HDMI Output

480i / 480P / 576i / 576P / 720P50 / 720P60 / 1080i25 / 1080i30 / 1080P25 / 1080P30 / 1080P24 HD signal output.

Menu Languages

English,French,Deutsch,Italiano;Spanish;Portuguese;Russian;Turkish;Polish; Arabic; Persian; Thai.

DiSEqC

1.0, 1.1, 1.2, USALS

Chips

Ali

Video Decoding

DVB-S/S2,MPEG-2/4 display

Signal Test

DVB-S/S2,MPEG-2/4,signal alarm & signal test

Frequency Range

950MHz-2150MHz(DVB-S/S2)

Built in Rechargeable Battery

2600mAh (11.1V)

Input Voltage

180*122*48mm

Unit Size

180*122*48mm

Unit Weight

528g(with battery)

Standard Accessories

DC 13.5V 1.5A adapter x1, Car Cigarette Lighter x1, F Fast Line x1, Manual x1 ,Bag x1

DC Line x1, AV Cable x1 ,HDMI Cable x1, Remote Controller x1
Packaging & Shipping:
Each Unit packed in One Gift Box,
10PCS/CTN
Carton Size : 70x 36x 27cm
N.W./G.W.:13.5/14.5 KG